Cross is here! For 2022, we have the official return of the Chicago Cyclocross Cup, and we're back with our cyclocross support package. We're going to keep most everything the same as in past years. You will bring your bike into the shop before the official start of the series on October 2nd for a full tune up to get your bike in top racing shape for the start of the season. Then, you will get one bike wash and lube/ race tune in between every race in the series. You have the option of having your bike transported to or from each race in the series. You also have access to mechanical support at the Tailwind tent on race day for any last minute adjustments or mechanical needs before your race. If you are racing in the higher categories and have a pit bike, we can even pit for you during your race.
The Tailwind Cyclocross Package will be $270.00 for 2022. That price is based on the seven race schedule posted on the CCC website as of August. Same as last year, if one of the races happens to get cancelled, we will issue a shop credit for a bike wash and lube Also, as in the past we will give our customers the option to pay for the package in two installments, the first half to be paid when we tune up your bike, and then the balance due by the first race on October 2nd. Once again, anyone who signs up for the cross package will get 15% off parts for their race bike and 20% off tubular gluing services.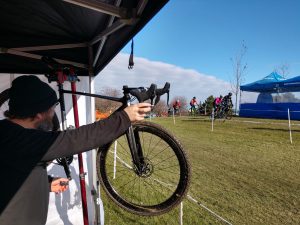 It will be great to see everyone out at the races this fall!