Well, it's been a pretty wild ride since 2019 when we last had a cyclocross racing season in Chicago! We sincerely hope all of our customers (past and present) and friends of the shop are hanging in there and doing well. We apologize for the delay on this, but we have finally hammered out the details of what will be the Tailwind Cycles cyclocross service package for the 2021 season. It's important to note that while the Chicago Cyclocross Cup itself has been canceled this year, the promotors of the individual races have been given the option to still run their events as they see fit. As it stands right now (September 23rd, 2021), five races have confirmed they are still planning to hold their event, and two races are listed as "TBD", so those are up in the air.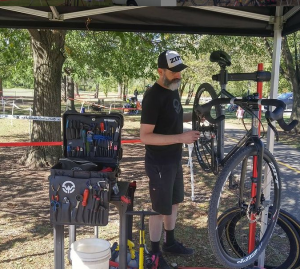 We are basing the  $230 price of the Tailwind CX Package this year around the idea that there will be at least four races. If we have customers purchase the package and there ends up being less than four races, we will issue a shop credit for the unused labor. If we actually get to have seven races this year, the Tailwind CX Package will be an even better value! Once again, the CX Package also includes a 15% discount on in-stock parts to keep you rolling this season and also a 20% discount on tubular gluing services. As in years past, we include one full tune up to get your bike into top racing shape, then a bike wash either before or after each race in addition to bike transportation to or from each race in the series. We are limiting the CX Package to the number of bikes we are able to transport to and from the races, so give us a call or email ASAP if you want to sign up.
Tailwind Cycles is also planning to be involved with USAC Cyclocross Nationals this year, which are conveniently in the Chicago area . We are planning to release our plans for CX Nationals later in the season, but if you are already thinking about looking for support at the Nationals races, please feel free to contact the shop and start talking about that.